Shopping Cart
Your Cart is Empty
Thank you for your business!
You should be receiving an order confirmation from Paypal shortly.
Exit Shopping Cart
The Fell Pony of North America
The Fell Pony was first imported to the US in 1934. Over the years, their numbers have increased to more than 380 in 2010. The Fell Pony is considered a rare breed in the U.S., and endangered in the UK, with numbers less than 6000 worldwide. Breeders are working hard to preserve the breed, and to maintain the original breed standards.
Stands Under 14 hands.

Average Height is 13.2 hands.

The head should be neat and pony-like.

A fairly long neck together with well laid back shoulders, gives the rider a good length of rein.

The ribs should be well sprung and the loins strong.

The quarters should be muscular and powerful, and the hocks well let down.

Good legs are one of the qualities of the breed, and these must be strong, with plenty of bone.

Pasterns should slope moderately, and the hooves should be hard and open, with the characteristic blue horn.

The feather, which extends up to the knee, should be straight and silky, and the mane and tail long and thick.
There are only 500 breeding mares in the U.K. where the ponies run wild on the Fells in semi feral herds. With a small, gene pool, the Fell breeders monitor their breeding programs carefully, to insure their survival, with ethical breeding practices.
The Fell Pony Society of North America is the first approved registered overseas branch of the Fell Pony Society (FPS) of England. All Fells are registered with the FPS.
At this time, there are less than 35 approved breeding stallions in North America with many mares and stallions are being bred here and imported every year.
Click on logs to see FPSNA & FPS sites.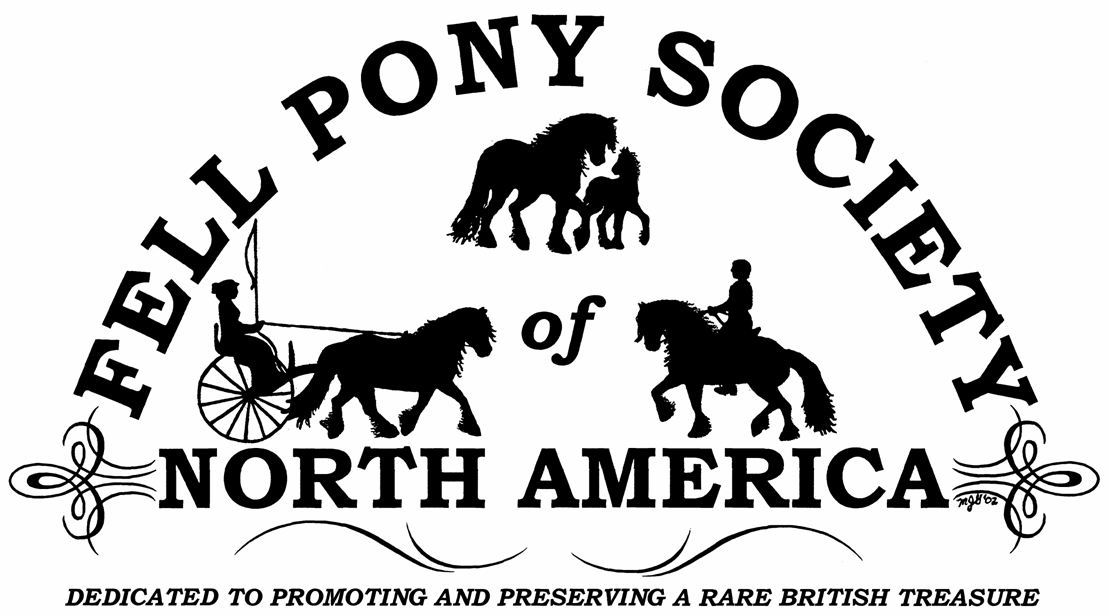 /